Release archive
Projektron BCS 7.14
Work breakdown structures designed like organizational charts and graphical multi-project evaluations visualize important information for project managers in the new Projektron BCS 7.14. In addition, order confirmations can easily be generated.
---
Clearly structured for multi-project managers
Projektron BCS 7.14 shows you the most important information regarding your projects brought together in one view.

Up-to-date figures, project priorities and status comments from the individual project managers ensure a quick overview and provide a reliable foundation for your decision-making process as a multi-project manager.

The five colored areas for profit, effort, total costs, personnel costs and material costs show you whether the projects are going well or whether action by management is required. Using traffic light colors, they evaluate the deviations from plan in the individual projects and show the actual values as well as the deviation from plan in percent.

One cost diagram per project shows how the total costs for that project are progressing. Order value, planned costs, actual costs and remaining costs are displayed as easy-to-understand bars; profits and losses are shown hatched.
This function is also included in BCS.start. The selection of items displayed may be limited because of dependencies to other modules.
Keeping an eye on the project structure
The project work breakdown structure is one of the most important tools in project management. Projektron BCS 7.14 visualizes these plans in line with the applicable regulations.
The new work breakdown structure view in the form of an organizational chart meets the standards of the Deutsche Gesellschaft für Projektmanagement (GPM) and the International Project Management Association (IPMA).
Whether partial projects, work packages, tasks or milestones are displayed – you see the structural elements of your project at a glance in a hierarchical structure. You can also choose to show status colors which provide information on the current processing status.
The associated view filters ensure that an appropriate amount of information is displayed, especially for large projects. For example, you can hide low-priority structural elements or limit the number of structure levels displayed.
This function is also included in BCS.start.
Greater data protection
Starting with Projektron BCS 7.14, you can anonymize old projects: Instead of the employee originally assigned, Projektron BCS will then display the word "Anonymized".

The project progression remains documented. This allows you, for example, to view anonymized project bookings or planned-actual comparisons and continue to benefit from the empirical values gained.

Projektron BCS anonymizes the entire project as well as objects with project reference – with the exception of quotations, invoices and references to employees in text fields, file names and reports. By default, closed projects that are at least five years old can be anonymized.
This function ist not included in BCS.start.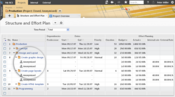 Quickly formalize orders in writing
You can quickly create a quotation from your planned data with just a few clicks in Projektron BCS. If your customer authorizes services you have offered, as of Projektron BCS 7.14, it is easy to generate the corresponding order confirmation.

Once you have created a template for your order confirmations using the BIRT open-source report designer, you can store it directly in the master data of your quotations and reuse it as often as you like.

If you wish to create an order confirmation, Projektron BCS will suggest the relevant order items to you. The preselection can be easily adapted as needed. If all required items are included, a corresponding PDF document can be generated easily and emailed directly to your client if desired.
This function is also included in BCS.start.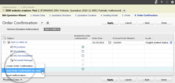 Recognize structures quickly
Whether you require your internal organization structure or that of your business partners: Projektron BCS 7.14 provides a quick overview with organizational charts in resource management and contact management (CRM).
Throughout the organization structures, the new organizational charts can be displayed as required – from entire organization groups to a particular organization or even departments and their employees.
If you need additional information, such as the telephone number of a contact person, simply click the corresponding organizational chart entry.
This function is also included in BCS.start.
Centralized management
Use the Projektron BCS bookmarks to jump directly to the most important views. As a user, you can create personal bookmarks. As an administrator, you can manage global bookmarks for the entire company centrally.

As of Projektron BCS 7.14, it is also possible to define global bookmarks for person groups. When you create a global bookmark for a person group, every member of the group will see the bookmark in their own bookmark menu. If you add a new member to a person group or remove a member from the group, the person's bookmark menu updates automatically.

Whether you want to manage bookmarks for all person groups or for only one group: As an administrator, you can manage all bookmarks centrally in an overview.
This function is also included in BCS.start.
Book efficiently
Whether you want to read emails, check invoices or perform other frequently recurring tasks: Starting with Projektron BCS 7.14, you can record your routine activities even more efficiently.

You can save activities which have already been booked, including the descriptive text, as booking favorites directly in the daily booking screen.

If you wish to record one of your routine activities, simply add the necessary processing time in the appropriate booking favorite. Projektron BCS automatically creates the corresponding booking for you.
This function is also included in BCS.start.