Release archive
Projektron BCS 7.0
Flexible organizational structures, holistic project management processes and modular components: The 7.0 of Projektron BCS draws all eyes with its fresh design and sets new standards in software-based project management.
---
Ergonomics with style
The operating interface of the new Projektron BCS 7.0 is causing a stir: Modern web elements make it more convenient to use – the increased white space and targeted coloring create a stylish look and add greater clarity.

Working quickly, clearly and with plenty of views open – no problem thanks to web tabs. Because: Each view you open in a Projektron BCS working area is loaded in a separate tab. Furthermore, you can arrange your tabs in any order you like using drag & drop. And: If you want to save the most important tabs in your user profile permanently, just click to pin them to the working area.
In which menu was the newsletter function again? The question doesn't arise in Projektron BCS 7.0. Because: Instead of different menus, the available Projektron BCS views are grouped by topic in a single Add tab. Thanks to the plus icon and color coding, this doesn't just look good, but also reduces the number of clicks you have to make to a minimum.
Design project management processes holistically
Modelprocesses around the project business easily, manage them centrally and thus react flexibly to new requirements. Projektron BCS 7.0 makes the wishes of many project management officers, process managers and quality managers come true – especially in project-orientated companies.

In the Activiti Designer, you can model the processes in accordance with BPMN 2.0 – the internationally recognized notation standard for business process models. In this, you can use the graphical program interface to define all activities in the process including the associated process forms and allocate the persons and person groups involved.

Once uploaded into Projektron BCS 7.0, the process models are ready to useimmediately and can be opened at the click of a mouse. This automatically gives process participants exactly the tasksdefined for them in the process model.
Easy to learn
New to Projektron BCS? From 7.0, context-sensitivepage help helps you to quickly learn how to use the web-based project management software. It offers you the most important information on the open view in a brief and compact style, as well as practical expert tips. And: If you don't need the page help any more, it's just as easy to hide it again with a click.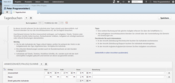 For flexible organizational structures
Departments and project teams have long been default features in Projektron BCS. With the new person groups, Projektron BCS now offers you additional organization options beyond the project and department boundaries.

Appropriate person groups can be formed flexible according to requirements and used in almost any way – whether it's as participants or persons responsible in processes, for operational activities or as members of project teams. You can even allocateindividual project structural elements – such as entire project groups or individual tasks – to person groups.
In the working area itself
From Version 7.0, greater clarity is provided not only by the new design, but also the modular BCS components. You will find a list of the available BCS modules in the Administration working area. As an administrator, you can switch individual BCS modules on and off easily, thus adapting the range of functions in Projektron BCS even better to your company's requirements.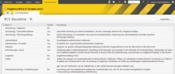 In view
External milestones are what holds closely interwoven projects together. In Projektron BCS 7.0, you can see at a glance which projects depend on which others: The Gantt chart shows you the external milestones in your projects directly on the top project level.

Across all projects, the milestone history shows you how punctually selected milestones were reached. Projektron BCS 7.0 thus provides particular support to program and multi-project managers who use milestones as indicators for project progress.
Practical for shift working
Projektron BCS 7.0 now makes booking easier for shift workers. Because: In the daily booking mask, bookings can be made beyond the 24-hour limit. For example, if you work as a fitter on a project from 10pm to 3am, justone booking is all it takes to record your working time – with the corresponding night-work bonus of course.
Clearly separated
Whether you agree a fixed price with your customer or are paid by the hour, Projektron BCS 7.0 shows you exactly the totals you can invoice your customer for: for fixed-price projects appropriately for the payment dates – for expense-based projects appropriately for the time bookings and hourly rates. Material costs, items and expenses are also taken into account, regardless of the billing type.