Customer relationship management (CRM)
Everything regarding your business partners
With Projektron BCS, you have a powerful CRM tool set at your fingertips.
---

Dr. Hartmut Pohlheim
Managing Director, Model Engineering Solutions GmbH (MES)
"The marketing and sales team maintains our extensive customer base and uses the communication history in CRM to capture relevant emails and interactions transparently for the entire company. This information helps our staff communicate - whether it's evaluations, support, or training."

Christian Otto Grötsch
Managing Director, dotSource GmbH
"Thanks to the customer relationship management functionalities, projects at dotSource can be handled via Projektron BCS from the creation of the offer to the realization and customer support of an ongoing online store."

Ralf Junge
Head of PMO, Sandstein Neue Medien
"We have used the CRM functions of BCS extensively from the beginning. We have coupled the software with our telephone system via CTI integration and also use the e-mail import and, in the meantime, the appointment synchronization with Outlook."
Marcus Brandl
Staff position operative management and business planning department at it4logistics AG, Information Technology (IT)
"Projektron BCS [offers] the possibility to work with user interfaces in foreign languages. This makes communication with foreign customers much easier."
Robert Klauser
Managing Director of infomax websolutions GmbH
The software has made our organisation more manageable. This benefits our contact with our customers Not least when it comes to contact with our customers, this is of great benefit to us: we now have reports that we can use to say very precisely: "We did that for you." Since business partners from the non-technical area are often not aware of how many individual steps complex tasks are divided into, we can strengthen trust in our work.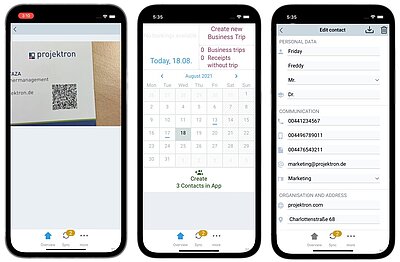 Centrally managed and clearly presented
Address, telephone number, position in the company and much more: In the Projektron BCS customer database, you can quickly access anything about your business partners.
Whether it's a customer manager or a project manager – everyone involved can access the currentinformation of your customer organization and have the most important key data displayed on a clear customer board.
Once saved in Projektron BCS, you can easily reuse the contact data of your business partners – for example in invoices, offersor newsletters. Repeated data entry is no longer necessary.
Contact data entry is also possible via the BCS app.
Uninterrupted and transparent
After a personal meeting, telephone call or a training seminar: You can quickly enter all important facts that were discussed with your customers, interested parties or service providers in the contact history feature of Projektron BCS.
Moreover, Projektron BCS can import your e-mail correspondence with external business partners directly from your e-mail server and assign them to the right persons in the contact database based on the address data.
As a sales employee, you can also see at a glance whether your communication is in order or whether you need to call a contact partner. The traffic light controlling lists your contacts with the corresponding traffic light icon. If a traffic light changes from green to yellow, it is time for you to contact your business partner. A red traffic light signals that the planned period for contacting has already expired.
Ergonomically prepared and elegantly designed
With the Projektron BCS newsletter function, you can always keep interested parties or customers in mind: Thanks to the powerful Projektron BCS search function, you can comfortably and reliably find newsletter recipients in the address database. You can also specify which sender address is to be shown if emails are sent directly from the Projektron BCS interface. You can copy existing mailings – the subject, text, file attachments and, if necessary, the recipients will all be copied too.
You can also copy the recipients from other circulars, or specify whether to send a serial e-mail despite an existing suspension, or whether the recipient is to be removed from the next copy. You can also specify whether a circular should be sent immediately or at a scheduled time and date.
Whether it's a Dr. or a Prof.: Projektron BCS automatically selects the correct title for each recipient. With HTML formatting, graphics and any type of file attachment, you can stylishly round off your newsletters.
Calculated forecast
In Projektron BCS, your acquisitions show you the income you can anticipate in the future. This allows you to analyze important values, such as the probability and amount of acquisitions or predicted closures, at a glance.
If you make specific quotations later, you can take them into account in your acquisitions. If values or the status of your quotation change, Projektron BCS adjusts your acquisitions accordingly. This way your acquisitions are up to date, giving you a well-founded turnover forecast.
For more transparency
Does your customer want to be regularly informed about how far along their project is? As a project manager, you can now relax when confronted with this request: You simply install a customer login in Projektron BCS and then the customer can independently obtain relevant information whenever they need it. It is of course up to you which project data you grant access to via customer login, thanks to customized rights management.
Well informed about callers
Making phone calls is part of contact maintenance and customer management. Projektron BCS makes it convenient and reduces the number of clicks: If a customer who is entered in the Projektron BCS contact database calls you, you can immediately call up their name and all relevant contact information.
This way you can react quickly and for example already enter a memo for the call during the conversation. If necessary, you can also mark this as "confidential" so only specific persons can see the entry.
Conversely, one click on the link of a telephone number is sufficient – and you are connected with the desired interlocutor, regardless of whether they're internal or external.