Invoicing
Cash flow under control
With Projektron BCS, you can create expenses and fixed price invoices based on projects – all the while using several currencies.
---
Electronic invoicing: XInvoice, ZUGFeRD and QR invoices
XInvoice is a new standard for electronic invoices sent to public administrations in Germany. Projektron BCS supports the format by creating an HTML overview to check the XInvoice before it is sent, in addition to the actual XInvoice in machine-readable form.

Alternatively, you can create invoices in ZUGFeRD format. ZUGFeRD stands for Zentraler User Guide des Forums elektronische Rechnung Deutschland (Central User Guide of the Electronic Invoice Forum Germany), is compliant with the E-Invoice Act and combines the visual representation in the PDF/A-3 standard with an XML file.

The advantages of ZUGFeRD for you are evident: Whereas data from paper invoices, scanned letters or PDF files used to be transferred manually into invoice software in a time-consuming and error-prone manner, ZUGFeRD provides the data in XML format, which the invoice software can automatically record and process. Visually, the view of the standard PDF file remains the same.
Requirements from Switzerland are covered in Projektron BCS by invoices with QR codes. You can specify on an invoice template or individually on invoices whether a QR code should be generated in the payment section.
Thomas Hackenbuchner
Head of Finance & Administration, MicroNova AG
"MicroNova also uses BCS for the actual invoicing, as enormous time savings can be achieved in connection with the DATEV export. Not only outgoing invoices to customers are processed, but also "intercompany invoices" within the group."
Peter Schürmann
Head of Global Project Management, msg global solutions Deutschland GmbH
"The creation of settlements and invoices with amounts in customer currencies is done completely via BCS. The automatic intercompany invoicing currently developed together with Projektron in the product standard allows for the automatic creation of group-internal invoices based on predefined templates and rules."

Monique Heim
Management assistant and project assistant, molpe Softwareentwicklungs GmbH
"Invoicing works via BCS with just a few clicks. Due to the possibility of individualisation, the invoice presentation is adapted to our corporate design. All our customers have their own invoice template in which the information they require (e.g. order or contract numbers) and the presentation of the invoice items (per task, per project, etc.) are stored. If an invoice correction is needed, this can also be done without much effort."

Stefan Thomé
Managing Director, spheos GmbH
"When a project section approaches its scheduled end, the overviews and printouts from Projektron of the hours worked facilitate our invoicing. If the customer so desires, he receives these lists as proof of our performance in addition to his invoice. At the same time, we provide them with a meaningful basis for making internal cost allocations. The freelancers also use printouts from Projektron BCS as the basis for their invoices. In this way, they shorten the checking process and the internal lead time."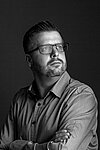 Mirko Richter
IT Services & Head of Applications, Stämpfli AG
"The service recording enables us to invoice our services in Projektron. The invoices are created directly in Projektron BCS and transferred via interface to our ERP system and our financial accounting software. Projektron provides us with excellent support, for example in the challenging introduction of the Swiss QR invoice 2022."
Adrian Kamer
Senior System Architect, Deleproject AG
"With BCS, we can invoice our services easily and correctly. We can create invoices based on fixed prices or expenses. BCS also supports the generation of the new Swiss QR invoices that our customers require."
Lutz Klickermann
Managing Director, ic-solution GmbH
"If we wanted to record the hours we worked, it seemed to make sense that the software should also be able to handle invoicing. Since we not only provide services and bill for the hours worked, but also bill for products and maintenance contracts, the system also had to be able to record our complete range of products and services. It quickly became clear to us that we needed the much-vaunted "eierlegende Wollmilchsau". It was important to us that the software could also map the entire sales process from quotation to invoicing. We are very happy to have chosen BCS and to have implemented the software."
Peter Schürmann
Head of Global Project Management, msg global solutions Germany GmbH
"We use BCS Projektron centrally for over 25 of our own country organizations. What makes it special is that we use consultants from many different countries in almost every one of our large projects, and all planning, resource allocation, time recording and billing is done in one BCS. We create all customer invoices there in local currencies and manage our own international intercompany billing. Having one central solution to cover all countries is a huge advantage, in addition to the high level of process integration."
Payment deductions for your customers
You can store discount provisions for payment terms and specifically define the deadline within which a discount shall be granted for the invoice as well as the discount amount.
Based on the payment dates, payment amount and traffic lights, you can immediately see which payments have been made within the due date for the discount deduction. By actively setting the payment status, you can differentiate which invoices have been paid with a discount and which invoices you will grant a goodwill discount deduction despite overdue receipt of payment.
Sending mails the easy way
Whether it's a single invoice or an entire invoice list: Projektron BCS can generate the corresponding e-mail with a ready-made cover letter, add the invoice and related hours and allowance vouchers as PDFs and even copy your customer's e-mail address from customer management.
Of course you can customize the cover letter as you see fit and attach additional files, if required.
If customers exceed the specified due date, you can view the outstanding items in your invoice list with the Dunning Run setting. There you define your dunning action: If you carry out the dunning action "Create written dunning" or "Create last written dunning" on the invoice, a corresponding PDF document is generated automatically and adapted to the status of the invoice.
Furthermore, you can have PDF documents automatically stored to a previously defined folder – from which you can print the collected dunnings and send them.
Seamless transition
Thanks to integrated time recording, employees book their required time efforts directly to your project. As a project manager, you can centrallyinspect all bookings and release them for settlement.
Whether it's materials used, external costs, items sold or travel expenses: Projektron BCS includes all additional project expenses in the invoice and thus allows for complete and precise invoicing.
Of course, you may also prepare credit items – for complete invoices as well as for individual invoice items.
Precise and in line with your needs
The integrated time recording allows your employees to book directly on your project. Billable bookings can be checked and invoiced easily and for specific projects.
Whether material costs, travel costs or external services: Projektron BCS can also add all other billable items to your invoice if desired, thus allowing complete and accurate invoicing. Any discounts negotiated in quotations are indicated separately during invoicing.
If you work with standard services or standard materials, you can save these as articles in Projektron BCS and apply them to your project. If necessary, standard sales prices and scaled prices for articles can be adjusted for specific projects and invoiced accordingly. In combination with creating quotations, interval related fees can be set up on article types, for example for invoicing update fees.
If you have agreed with your customer on a fixed price for the entire project or subproject, this can be invoiced just as easily. If the hours contributed by your employees are to enter into the invoicing on a pro-rata basis, simply specify this by using project-specific invoicing factors.
Convenient solutions
Whether manually or automatically: Projektron BCS makes invoicing easy for you. A wizard will guide you through invoicing step-by-step when you want to create invoices or credit notes. If you also work with invoice templates, you can store your contact data, payment terms, standard phrases and your logo once and simply reuse them time and again.

The invoice generator carries out even more working steps for you. Whether total invoice, split invoices, down payment invoices or final invoice: The billable amounts for all projects are compiled in temporary invoices for you, for example in a monthly cycle. It is particularly efficient to automate invoices that you create at regular intervals, for example as part of maintenance contracts.
Planned in euros, billed in dollars
You have business partners in other countries and want to bill your projects in their currency? It doesn't matter if it's dollars or Swiss francs: In Projektron BCS, you can select any currency and use it for invoices to international customers .
For the complete control of project costs, the local currency is of course still at your disposal.
The flexibility of Projektron BCS also allows you to adjust the VAT rate and language of the invoice.
Customizable
Flexible invoice management in Projektron BCS. For instance, you can design your invoicedirectly in Projektron BCS, e.g. with a logo or individual header and footer. Moreover, you can format the text templates simply using the integrated rich text editor.
In addition, after you have exported an invoice, you can continue processing your data in other systems, such as SAP, or supplement your invoicing processes with individually configured dunning procedures.