Project Management Software for the Software Industry
Projektron BCS: perfect for organization & project management in software development
Projektron BCS supports companies in the software industry with project management, project organization, the organization of all work processes and collaboration with customers. More than every third company that uses Projektron BCS is active in software development. We ourselves also rely internally exclusively on our own software, whether for the continuous further development of Projektron BCS according to Scrum or to automate our business processes.
---
What if your software development program...
➤ not only maps your software development, but your entire project management?
➤ replaces your software landscape as an all-encompassing enterprise software?
➤maps classic and hybrid project management methods in addition to Scrum?
➤ adapts flexibly to your methods and processes?
➤ organizes your entire customer support centrally?
➤ integrates interfaces to Jira and all other applications?
➤ enables cross-location and location-independent collaboration?
➤ can be implemented quickly and cost-effectively?
"We use Projektron BCS in an all-encompassing way. Without these all-encompassing possibilities, we would not be where we are now. The strength of BCS lies in the combination of its many modules. Without BCS, our company would have a need for probably five to six different software applications. BCS simply covers these completely. That makes it very easy for us."
Lutz Klickermann
Managing Director, ic-solution GmbH, Leipzig
Project management in software development - Projektron BCS
Project management in software development differs from classic project management in that software projects follow an agile process model with several rounds of tests, updates and customer feedback - usually according to the Scrum framework. However, software development cycles are often embedded in broader projects that are structured and executed according to classic project management methods. With Projektron BCS, you get software that is ideally equipped to meet all these requirements and help you achieve your goal.
BCS is an all-purpose weapon that supports project management according to all common methods and the handling of all business, organizational and collaboration processes. BCS as a Business Corrdination Software relieves the management of companies in the software industry - from customer management and support to personnel management, quotation and accounting to working time recording.
All your work processes, your teamwork and the quality of your products benefit!
You would like to get to know BCS as a software solution for software development? Join our free demo presentation now and start your non-binding test!
Why is BCS the ideal software for companies in the software industry?
What was important to those responsible for companies in the software industry during the selection process and why do they still rely on the web-based project management and business coordination software Projektron BCS today?

"With Projektron BCS, a solution was recommended to us by a cooperation partner that already met almost all of our requirements out-of-the-box and offered much more on top of that. We can recommend the tool unconditionally to all companies that work in a project-oriented manner."
Manfred Nowotny
Management Board, ONTEC AG, Vienna, Austria
"The basis for successful project management is our experience and the application of professional agile and classic methods. With the introduction of Projektron BCS at the beginning of 2018, we were also able to increase transparency in our projects and promote teamwork and communication. From acquisition to planning to controlling, BCS supports us optimally."
Dipl.-Ing. Carsten Nolte
Managing Director, CN-Consult IT-Beratungs- und Dienstleistungs GmbH, Braunschweig

"The Projektron BCS software covered all the points we wanted. Even though we have only used a small part of the range of functions so far, we are very happy to have come across Projektron BCS and would not want to do without it in our daily work."
Monique Heim
Management Assistant and Project Assistant, molpe Softwareentwicklungs GmbH, Kusterdingen

"Transparency for everyone! Projektron BCS supports us in organizing and communicating with customers for small orders to comprehensive projects - transparently across all employee levels. From the inquiry to the offer, during implementation and also for invoicing, we count on this program and wouldn't want to do without it."
Gaby Loertscher
Senior Project Manager, Macos Software AG, Volketswil, Switzerland

"Agile process models require close and trusting cooperation between the client and the service provider, because unlike a classic approach, there are no specifications drawn up before the start of the project and no precisely calculated schedules. With Projektron BCS, we give our customers a transparent insight into the project work and the current status of resources, efforts and costs at any time. We can precisely document efforts and make them documentable and billable for invoicing."
Tilman Issing
Founder & Managing Director, Pinuts digital thinking GmbH, Berlin

"By using the Projektron BCS software for many years, we not only maintained the quality of our services and products, but rather increased it. Management can get an overview of current projects and their status at any time: With little effort, we customized BCS reports in cooperation with Projektron to present our business processes well. Time recording and vacation planning are gladly accepted by our employees. At the same time, motivation increases due to the ease of use."
Oliver Dorn-Fussenegger
Head of IT Services, NTS Retail KG, Leonding, Österreich

"Projektron BCS enables us to map the multi-layered, elementary company processes in the area of planning, development and project planning of our internet-based software solutions. The functions in the recording and evaluation of working times of operational activities, projects and tickets are equally appreciated by project management and development. We have thus succeeded in consolidating and sustainably satisfying our individual needs with one tool on the basis of a standard product."
Oliver Schaus
Managing Director for Finance & Controlling, it.x Informationssysteme GmbH, Konstanz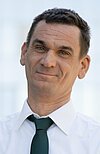 "BCS is the central tool for us, through which we map almost all processes. Each of our employees uses BCS from the first day of work, our entire customer support is based on the ticket system in BCS. The deployment and resource planning has become indispensable for the internal organization of work. BCS has replaced SAP Business One as our company management software and OTRS as our ticketing system. We didn't even have to purchase CRM software. We quickly benefited from the decision to reduce the amount of different tools and thus diverse interfaces and finally decided that BCS should be our ERP system.
David Rosenau
Head of Solution Consulting/SAP Senior Consultant, Mercoline GmbH, Berlin

"With the BCS project management software, we were able to replace the heterogeneous system landscape in our company with an all-encompassing solution. From sales to project management to development - we at dotSource particularly appreciate the transparency that the tool offers. Not only do we benefit from this every day in our project work, but above all our customers do as well."
Christian Otto Grötsch
Managing Director, dotSource GmbH, Berlin

"SkyGate uses Projektron BCS to organize and control all development and support projects. After a short test phase, we were particularly convinced by the well thought-out functions and the technical design of the software, which allows for individual customizability and the possibility of connecting third-party systems. Step by step, we are now also introducing the BCS ticket system for communication and support for ongoing projects."
Stephan Jensen
Managing Director, SkyGate internetworking GmbH, Berlin
"Finally, we have found a tool that comes very close to our IT projects and their characteristics and covers the complete process chain. Almost all functions that the project management team needs are mapped here. The ease of use and the location-independent access are a great advantage. It is impossible to imagine everyday operational project work without Projektron BCS!"
Christian Schwab
Managing partner at ETECTURE GmbH, Frankfurt a. M.
First-hand experience:
User reports from companies that have been successfully using Projektron BCS in software development for years.
The advantages of Projektron BCS in software development
Live the Scrum process: Projektron BCS as Scrum software
Do you also rely on agile software development according to Scrum? The framework impresses with its simple structure and predefined roles, can be implemented quickly and ensures flexibility and transparency. Projektron BCS is open to methods and also supports your development projects according to Scrum, while remaining highly customizable and able to adapt to your specific Scrum approach.
| | |
| --- | --- |
| | Scrum Roles: You map the usual Scrum roles such as Scrum Master or Product Owner in BCS via user licenses and roles. This gives each team member the necessary access rights. |
| | Daily Scrum: BCS supports you with a task overview in which processing status the requirements and activities from your Sprint Backlog are currently located. Each team member can select an activity for processing or mark it as implemented with one click. This serves as a reliable basis for the daily planning of your Scrum team. |
| | Burndown chart: A burndown chart with cumulative flow diagram can be integrated into the task overview, which graphically displays the sprint progress. Projektron BCS visualizes the processing status of the requirements in color and displays the ideal chronological sprint progression as a reference. |
| | Scrum Board: Depending on the column into which you move your activities from the user stories via drag & drop, the status of the respective activity changes automatically. Colored markings make it clear which activity belongs to which user story. Via drag & drop you assign team members to the activities. As in Kanban, you can set a work-in-progress limit. |
| | Product Backlog: Structure and refine the requirements for your product with epics, user stories, subrequirements, activities and acceptance tests. Directly in the Product Backlog, you can also create the required Scrum structure elements, move them via drag & drop and prioritize them. Team members and product owners can communicate with each other directly on user stories and epics. You can also see the communication process and the most important changes directly on the Scrum element. |
| | Sprint Planning: In the planning view of the product backlog, Projektron BCS shows you the sprints of your Scrum project that are still open. Possible sprint assignments and processing sequences of the user stories can be run through using drag & drop. Projektron BCS takes into account the development speed of your team (velocity) as well as the estimated story points of your user stories and informs you about capacity. |
| | Sprint calendar: Whether sprint planning, daily scrum, sprint demo (review) or sprint retrospective: In the sprint calendar, you automatically generate regular meetings of your scrum team. |
| | Scrum with multiple teams: If you are working on a large Scrum project with multiple development teams, the planning view in the Product Backlog allows you to organize your user stories clearly, even in multiple sprints running in parallel. |
| | Resource planning included: BCS allows you to reserve staff capacity for individual sprints or for the entire Scrum project. You can quickly check how much free capacity is currently available in the resource preview. |
| | Time recording included: Your Scrum team posts the effort incurred directly to the processed user stories, subrequirements, activities and acceptance tests. Projektron BCS adds up the booked times along the product backlog structure. As a product owner, you know exactly how much time and effort it took to implement a user story or a product increment, for example, and can make a target/actual comparison. Using Projektron BCS invoicing, you can invoice your customers for the booked efforts on a project-specific basis. |

"Initially, we introduced Projektron BCS in July 2012 with a focus on software development according to Scrum. We focused on a pilot project and were advised by Projektron support on the initial setup of a Scrum project. In the role of the product owner, one is supported by an intuitive wizard when planning the sprints, such as team planning, effort distribution and setting meetings. The product backlog in BCS allows us to manage and prioritize the epics, user stories and acceptance tests in a very clear and structured way. This means that the current project status can be viewed centrally and transparently and forms the basis for discussions with stakeholders as well as estimation meetings with the team."
Dr. Hartmut Pohlheim
Managing Director, Model Engineering Solutions GmbH, Berlin
"The changeover to BCS went smoothly and was also met with a high level of acceptance within the team. In addition to the Scrum Master and the Product Owner, our team consists of seven other employees. These roles, which are common in Scrum, could be mapped well via the user licenses and roles in Projektron BSC. By using a uniform tool for Scrum planning and controlling, the planning and review meetings run more efficiently. The overhead for recording working hours or booking on individual sprint tasks is reduced for each team member."
Thomas Hintze
Software developer, Freyer & Siegel Elektronik GmbH & Co. KG, Mühlenbeck

"Depending on the project and customer requirements, we develop according to the V-model, Scrum or a mixture of both. Without Projektron BCS as a powerful and open-method project management software, the current project flow would not be feasible. Internally, we also maintain a project management manual as a guideline for our project management activities. We have already been able to automate very many of the processes recorded there thanks to BCS."
Jörg Klenke
Project Management & PMO, Systemtechnik LEBER GmbH & Co. KG, Schwaig

"For the development of our software products, we rely on agile project management according to Scrum. Since we also do classic project management in other areas, we were looking for a tool that helps us manage our projects and supports both approaches. We also wanted to link our customer data, including a ticket system for our customer support, to the projects. The simultaneous use of Projektron BCS for development and commercial processes offers us specific advantages for Model Engineering Solutions."
Dr. Hartmut Pohlheim
Managing Director, Model Engineering Solutions GmbH, Berlin
Development in Jira - Project Management in BCS
Using the bidirectional interface to JIRA Server and the unidirectional interface to JIRA Cloud, you can easily and flexibly integrate JIRA tasks (issues) and JIRA work logs into your Projektron BCS project. With the interface you:
| | |
| --- | --- |
| | transfer tasks, work logs or estimates from JIRA to BCS. |
| | flexibly exclude individual user stories, epics, etc. from synchronization as an option. |
| | easily embed JIRA tasks in your Projektron BCS project and thus include development efforts in your controlling evaluations. |
| | identify potential bottlenecks while your team is already working on JIRA tasks in the resource preview and use free capacities efficiently. |
| | keep track of the progress of your entire project with Gantt charts, target/actual comparisons and traffic light functions. |
| | identify undesirable developments early on by forecasting time and budget overruns and take timely countermeasures. |
| | generate project reports easily and inform stakeholders quickly and as needed. |
| | invoice projects including the efforts from the JIRA work logs conveniently. |
Projektron BCS provides holistic support for your project work: From the sales process to quotation creation, project planning and control including resource planning and invoicing, the system covers all areas that are necessary for successful and efficient project implementation.
With precise scheduling and informative resource forecasts, development projects, support projects and maintenance projects can be handled efficiently and cost-effectively. During the course of the project, the precise project controlling and timely project reporting enable you to provide your customers with information at any time. The detailed analysis options offer you ideal conditions for continuously optimizing your individual workflows and internal processes.
"We have been relying on Projektron BCS in our projects since 2015: from planning to the implementation of our agile projects according to Scrum to invoicing, the software supports the entire project lifecycle."
Jörg Harnisch
Management Board, hm informatik AG, Ilmenau

"The separation into development projects with all the Scrum tasks and customer projects with the tasks and tickets to the orders made sense. The internal permanent tasks complete the structure to be able to efficiently book time on them."
Peter Schöttel
Head of Software Development, BARTELT Gesellschaft m.b.H., Graz, Austria

"In addition to time recording and vacation planning, resources in particular are planned and controlled. In addition, we have recently been making increased use of the appointment and team calendar, and since 2022, the invoicing module, in order to be able to transfer booked expenses directly into an invoice. At this point, BCS took us to a new level of quality. Its reliability and stability have made workflows easier. In particular, transparency in project processing has improved significantly."
Hartmut Knecht
Management, IRS Software GmbH
"Projektron BCS not only makes it easy to hand over tasks, but has also led to a standardization and simplification of company processes. Controlling and project management tasks have been simplified by Projektron BCS. With the help of the software, it is much easier for those responsible to keep an eye on relevant key figures and avoid critical estimates in the future."
Jürgen Stolz
Managing Director, Stolz IT Consulting, Steinach

"With the help of the monthly working time evaluation, we can quickly see whether all employees have entered their working hours or whether something may have been forgotten. This is important for correct invoicing to our customers."
Monique Heim
Management Assistant and Project Assistant, molpe Softwareentwicklungs GmbH, Kusterdingen
Do your development teams work at different beach locations? With the web-based project management software Projektron BCS, you can bring the team together thanks to integrated calendars, appointments, meeting planning tools and central access to projects and documents.
Your employees can easily access Projektron BCS via web bowser from their workstation in the office, in the home office or on an external appointment with customers or partners. However, not only your team members, but also your customers and external project staff are actively involved thanks to browser-based access, a suitable license structure and detailed rights management. Project participants with the appropriate rights access the same central database regardless of their location and have an overview of tasks, deadlines and schedules.
By integrating your customers, you create transparency. Your customers are informed not only about the current status of the project work, but also about resources, efforts and costs. You shorten approval processes to a minimum through direct communication via BCS. Trustful cooperation, time and cost savings have a positive effect on all parties involved.
"Projektron BCS offers internationality, multi-currency, automated intercompany invoicing, independent billing and cost rates. The biggest advantage of Projektron BCS is that you can plan and control projects completely independent of location and organization. In our view, this is an excellent quality of BCS."
Peter Schürmann
Head of Global Project Management, msg global solutions Deutschland GmbH, Ismaning
"It helps us a lot that the software is web-based: Our customers are international and many of our employees spend a lot of time in the companies we serve. Thanks to mobile access to BCS, all relevant data is nevertheless available to them. In the file repository linked to the respective project, relevant documents can be managed centrally on the one hand, while on the other hand our employees can easily access important documents at the customer's site. Last but not least, Projektron BCS offers the option of working with user interfaces in foreign languages. This makes communication with foreign customers much easier."
Chris Landmann
Project Controlling, it4logistics GmbH, Potsdam

"BCS enables us to plan and execute projects across multiple locations. The multi-currency capability additionally facilitates project management with partners outside the Eurozone."
Oliver Dorn-Fussenegger
Head of IT Services, NTS Retail KG, Leonding, Österreich
Ticket system in Projektron BCS - Versatile for internal organization and external communication
The ticket system in Projektron BCS opens up several options for you:
| | |
| --- | --- |
| | Customer communication in the form of your own support portal |
| | Internal task allocation and work organization within the scope of project tasks and line activities (Kanban board) |
| | Flexible task- and project-related effort recording for precise billing |
| | Exchange and documentation within the scope of cooperation (also across locations) |

"We use the ticket system in BCS to actively involve customers in the processes of the project. Using the settings options of the "Personal Overview" view, the daily tasks, appointments, tickets, etc. can be clearly displayed in order to work more efficiently and to assign urgencies to the responsible person in a short way. In this way, both the speed can be increased, especially in the area of ticket processing, and the transparency in the workflow can be increased."
Oliver Schmidt
Chief Operating Officer, SoftconCIS GmbH, Köln
"We have come to appreciate the ticket module from BCS. We use it both in our development department for internal communication and in contact with customers: We process support requests via tickets and archive the processes centrally at the same time. This way, everything can be tracked if there is a need for clarification."
Chris Landmann
Project Controlling, it4logistics GmbH, Potsdam

"The marketing and sales team maintains our extensive customer base and uses the communication history in the CRM to transparently capture relevant emails and interactions for the entire company. This information helps our employees communicate - be it for evaluations, support or training. Quotations and invoices, as well as associated generated product licenses, are managed centrally with Projektron BCS, resulting in high efficiency for our sales team."
Dr. Hartmut Pohlheim
Managing Director, Model Engineering Solutions GmbH, Berlin
Your support portal with the ticket system from BCS
Do you process incoming customer inquiries and complaints via e-mail? Or would you like to offer round-the-clock customer service, but are struggling to keep your hotline continuously staffed? Does your support team find it difficult to prioritize customer queries and assign them to the appropriate agents? The ticket system in Projektron BCS is the ideal solution to make your support customer-centric, productive and efficient.
A ticket system forms the direct interface between your customers and your support team. Customers can enter requests and error tickets, support staff use the tickets for organization, documentation and billing. A ticket system in support therefore offers a variety of advantages for you and for your customers:
| | |
| --- | --- |
| | Centralization: a ticket system records incoming requests and stores the contact history centrally in one place, cross-channel and context-related. This means that all relevant information, from the contact history to the digital customer file to the current processing status, is clearly available to every agent via the software. |
| | Automation: The ticket system considerably simplifies routine tasks and the organization of inquiries once appropriate workflows have been defined. These include the recording of requests, transfer to a digitally standardized format, categorization, prioritization and initial evaluation. |
| | Time savings: Capturing user requests in tickets saves first-level support work in recording and classifying a request. The customer, as the ticket creator, already makes the necessary entries independently, without a support employee having to query information or request supplementary material from the customer. |
| | On-time processing: The ticket system makes it much easier to comply with your SLA (Service Level Agreement) guidelines. Reminder functions and prioritization levels ensure that your service agents process customer inquiries and error tickets on time. If an employee fails to meet deadlines due to overload or absence, escalation rules ensure that the ticket is taken over by other agents. |
| | Evaluability: Tickets are stored with all information and processing histories and can be evaluated. This makes it easy to evaluate and optimize response times, ticket volumes and average communication efforts. You can see unnecessary work steps and too much effort, keep an eye on your team's performance and easily adjust workflows. |
| | Transparency: The customer can track agents, processing status and progress in detail. This helps them to build trust in your company and to understand calculated efforts more easily. |
| | Availability: Even if your customer support or help desk cannot be manned around the clock, the ticket system remains available to customers 24/7. The ticket system informs the customer about every status change. |
Thanks to precise separation between external and internal data, the external support portal ensures even greater security and particularly high data protection. Transferred information Data is transferred in both directions between the external support portal and the internal Projektron BCS - but not all of it. For example, only data that your customers are allowed to see ends up on the external support portal, while you see all the information you need to process a ticket in the internal Projektron BCS.
The exchange of files is also possible: The associated file storage of the support portal is also displayed on tickets in the internal Projektron BCS. In this way, you see both external and internal files in one view and can move or copy the files if necessary.

"Also in the interest of our customers is the ticket system. Direct communication with customers via tickets makes the support team's work much easier."
Stephan Jensen
Managing Director, SkyGate GmbH, Berlin

"Development inputs are always done through tickets so that the origin is clear. They are entered in different ways: Some program corrections are triggered by customer tickets. Maintenance customers each have a standing task in the customer projects for maintaining the products. These standing tasks can be quickly accessed using bookmarks."
Peter Schöttel
Head of Software Development, BARTELT Gesellschaft m.b.H., Graz, Austria
Tickets for Scrum
If you work with the ticket system from Projektron BCS, you can easily transfer internal inquiries and customer requests for your products into your Scrum projects.
For example, if a customer requests a new function via ticket, you can create the associated user story in the Scrum software with just a few clicks and add it to a product backlog. The ticket description can be easily adopted for user stories and activities. Projektron BCS links the new user story to the original ticket, making it easy to trace the background of its creation, for example when prioritizing the product backlog.
In addition, tickets can be linked to existing user stories, epics or partial requirements.
"By using automated web services, we can ensure the fast and systematic creation and processing of tickets in Projektron BCS from up to 1,000 emails per customer per day. In the process, similar notifications are automatically combined in one ticket. With their customer access, customers track the subsequent processing of their tickets in the BCS support portal."
Volker Siebelink
Management, MEGLA GmbH, Meschede
Data security guaranteed throughout the entire software lifecycle
Who hasn't experienced the situation where the customer's data protection officer throws a spanner in the works shortly before the release? By taking a preventive approach, you can strategically establish tightly described guidelines and high standards in the area of data protection. We apply these standards to the development of Projektron BCS and enable you to develop secure software with BCS.
By implementing the following measures, among others, we ensure a high level of data security and significantly reduce the risk of data breaches and other security incidents:
| | |
| --- | --- |
| | The BCS internal password vault ensures that all passwords used in the software development process are stored in a secure, encrypted location. This increases security, as passwords are no longer entered in configuration files and passwords cannot be read from the password vault by unauthorized persons. |
| | Certificate management ensures that all digital certificates used in the software development process are valid and secure, and that they are used correctly and consistently. |
| | Our development and hosting team is ISO 27001 certified. We have implemented comprehensive security controls in line with the standard to protect sensitive data. |
| | Two-factor authentication adds an extra layer of security to the login process by requiring users to provide two forms of identification. After entering a username and password, BCS also requires users to scan a QR code or enter an authentication code using the TOTP method. Each user can enable 2-factor authentication for themselves in their user account |
| | Ongoing penetration tests help us to identify and eliminate vulnerabilities in the Projektron BCS software development process by simulating the actions of an attacker. |
Data protection-compliant software development
According to the General Data Protection Regulation, software manufacturers must comply with certain requirements when developing software solutions. BCS supports you in meeting these requirements of the GDPR for the processing and storage of personal data, for example thanks to:
| | |
| --- | --- |
| | Anonymization function for test installations: By implementing an anonymization feature, users of a BCS test instance can ensure that sensitive data is not exposed and reduce the risk of data breaches. In addition, test data can be shared with other teams or third parties without compromising data privacy. |
| | Presentation anonymization feature: Ensure that sensitive data is not exposed during presentations. This can be especially useful when data is shared with external parties or presented in a public environment. |
| | Customized deletion procedure for old data: Define individually what type of data, when and how securely it should be deleted. This ensures that you comply with legal requirements and protect your customers' privacy. |
License purchase or SaaS model - the choice is yours!
Projektron BCS is designed as a central tool that supports all important work processes in your software development company from offer to invoice - not just project work! BCS is individually scalable and adapts easily to your requirements thanks to versatile customizing options.
The structure of Projektron BCS is modular. This allows you to put together your individual ERP software for your software company module by module. You only pay for the functions that you really need and use. Your system remains updateable and flexible, so that you can map extensions quickly and easily.
You have the free choice between the on-premise and SaaS (cloud) variants of BCS. Projektron BCS has been developed by Projektron GmbH in Berlin since 2001. Thanks to continuous further development, you can expect a new release four times a year. As a German provider, we host your data in Germany according to the highest data protection and security standards.
---
"At the beginning, we opted for the SaaS version of BCS.start, which is low on administration and requirements, in order to be able to use all functions as quickly as possible. Only in the course of time and with daily use did the desire to make our own adjustments and configurations to our BCS instance, such as adding or renaming fields, arise. Therefore, we switched to the on-prem licence purchase model in 2019 without any complications. In 2020, we switched just as smoothly from BCS.start to the full version Projektron BCS."
Lutz Klickermann
Management, ic-solution GmbH, Leipzig
"Due to the modular structure of Projektron BCS, it is possible to integrate further areas of the tool into the company processes "on demand". The use of the ticket system arose from our customers' requirements. Projektron BCS offers excellent tool support when switching to agile development processes such as Scrum. Wiki integration for knowledge management is also becoming increasingly important."
Jürgen Stolz
Managing Director, Stolz IT Consulting, Steinach
"As a consulting, development and integration service provider for business applications in the financial industry, the security of a software and transparent processes are important to us. Due to our growth to date and the constantly increasing number of users, user-friendliness and intuitive operation have also become an important factor. With Projektron BCS, we have found a system that meets these requirements exactly. In addition, BCS can also be flexibly adapted to our needs and enables us to make numerous process improvements."
Kevin Botsch
BCS technical product management, Finanz Informatik Solutions Plus GmbH, Fellbach

"Invoicing works via BCS with just a few clicks. Due to the possibility of individualization, the invoice presentation is adapted to our corporate design. All our customers have their own invoice template in which the information they require (e.g. order or contract numbers) and the presentation of the invoice items (per task, per project, etc.) are stored. Should an invoice correction ever be needed, this is also possible without much effort."
Monique Heim
Management Assistant and Project Assistant, molpe Softwareentwicklungs GmbH, Kusterdingen
Discover Projektron BCS in a non-binding and personal demo and start your free test phase!
---
References: These software development companies already rely on Projektron BCS
Were you convinced by the use cases and experiences of software development with BCS? Arrange your free demo presentation now and start the non-binding test phase!
Learn more about software selection and software implementation
Enterprise software implementation is a complex task. The purpose of a software implementation is to successfully implement a new software, such as a project management tool, to improve business results, increase efficiency and productivity. What are the implementation strategies? Which strategy is suitable for which situation and for which purpose? What factors influence which strategy is the right one? With this knowledge, you as a project manager will lead your software project to success.
Get an overview in a simple way: We compare 11 of the most popular and best project management software solutions. Are you looking for project management software for agile working, a functional giant for software development or a platform for various tasks in multi-project management? Start here on the spot, discover the market and compare BCS with factro, Wrike, awork, InLoox, Trello, Asana, Jira, Monday and other development and project management software!
If your company is about to select project management software for software development, you probably don't know where to start looking for the right PM tool for you. The jungle of international and national providers, software and tools initially appears deep and impenetrable. This guide paves your way phase by phase through the PM software market, gives you a plan and leads you in nine steps to the right decision.