Ticket system
Simply efficient
Thanks to software-based customer communication, flexible registration of expenses and precise invoicing, you can manage customer inquiries and project tickets in Projektron BCS in a quick, efficient and cost-saving manner.
---
Take the pressure off your hotline
With their own accounts, customers can log into the Projektron BCS customer support system and enter their enquiries as tickets – it's quick and uncomplicated. This way your customers can reach you at any time – and you keep track of all incoming customer enquiries.
If a ticket becomes too extensive or labor-intensive, you can change it to a project task with one click: All the important ticket data such as subject, description and previously booked efforts are automaticallytransferred by Projektron BCS and the full functionality of a project task is provided.
Providing the highest degree of transparency
As a business, you want to provide your customers with a certain level of service quality, for example: At what times can you reach customer support? How long does it take for them to respond to the queries? How are tasks processed with regard to their deadlines?
In Projektron BCS, service hours, reaction times and early warning stages up to the task level can be defined in detail. You can define the time period in which your support can be reached as service hours according to type of ticket, priority and day of the week. If you offer premium support for your top customers, you can define this too.
Early warning stages help you stick to your reaction times. Should pressing requests be replied to within 8 hours? Set an early warning stage, if the deadline is only hours away.
You can use the mailing list to specify who is to be informed at this point. Either you name a specific person or, in addition to that, you send a message to the project manager or ticket processor in charge.
What stage of escalation your tickets are currently on can be seen at a glance; this way you and your team members can see what tickets require more attention than others.

Alexandra Baldauf
Business Consultant, Goodson Softwaresolutions GmbH
"With the ticket system, we always have an overview of all customer requests. We can prioritise them if necessary, check service times and set up advance warning levels to keep the quality and speed of our support high at all times. Our customers benefit from the full transparency of the ticket system, as they can see the status of the tickets at any time. The communication flow to the customer is always there thanks to the ticket system."

Linus Hogrebe
Project Manager, Airport Research Center GmbH
"When deciding on Projektron BCS, we were particularly convinced by the holistic approach, in which project and resource planning, working time recording, deadlines, etc. are linked together. The ticket system in particular enables us to seamlessly integrate support for our customers and maintain a high quality standard in this area: Via an external support portal, our customers can conveniently submit new requests or check the current status of their requests, while the internal BCS system merges external and internal requests, thus providing a uniform and efficient working environment for our employees. A decisive factor for acceptance was the high flexibility of the system, which allows far-reaching configuration adaptations to our own processes."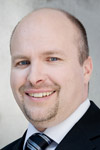 Dr. Sven Kleiner
Board Member of :em engineering methods AG
"By now, we also use the ticket system based on the BCS model for our own support: This way, we not only organise the processing of requests, but can also give our customers a precise breakdown of what work we have done for them at the end of a billing period."

Stephan Jensen
Managing Director of skygate GmbH
The ticket system is also in the interest of our customers. Being able to communicate with our customers directly via tickets makes the job much easier for our support team.
Marcus Brandl
Administrative department at it4logistics GmbH
We also learned to appreciate the BCS ticket module. We use it in our development department for internal communication as well as during contact with customers: We process support inquiries using tickets while archiving the processes centrally at the same time. Therefore anything can be reproduced in case you need any clarification.
Other functions in ticket system
Up to date
Whether a new comment has been inserted, a processing status has been changed or relevant files have been uploaded: Projektron BCS automatically informs your customers of any ticket changes via email. If you respond to a ticket notification in your email application, Projektron BCS imports your comment and assigns it to the corresponding ticket. In addition, attached image files are filed directly in the file repository and are displayed either in the master data or directly on the respective ticket comment.
Quick processing
Thanks to the assigning tickets according to type and priority, a quick differentiation of tickets and forwarding to the responsible expert is possible – immediately after receipt. This way processing times are reduced and problems are solved quicker – for your customers' satisfaction.
Working efficiently
Be it questions, suggestions, errors or extension requests: The ticket system by Projektron BCS contains centrally documented customer inquiries and solutions.
You can use this stored knowledge systematically to issue new tickets and create FAQ entries.
Projektron BCS also offers you the possibility of marking comments as solution-relevant. The green symbol shows your colleagues immediately which ticket comments contain the profitable information.
And if you manage frequently-asked questions in the FAQ section of Projektron BCS, then Projektron BCS makes it possible for you to generate new FAQs from solution-relevant ticket comments in no time.
Flexible use
You can record the efforts required for processing directly at the ticket and invoicethem to your customers, for example partially automated by using the invoice generator of Projektron BCS.
Conveniently combined
If you use the Projektron BCS ticket system in connection with the agile project management method Scrum, you can convenientlylink the two tools: Using the customer tickets, you can create a user story with the click of a mouse or add the ticket to an already existing user story.
Up for evaluation
A dynamic board view allows compiling ticket evaluations on a customized and as needed basis. You can have evaluations displayed via many different dimensions as pie charts and bar charts. This makes it possible for you to keep an eye on all developments and quickly retrieve all the information you need.
All charts can also be saved as scalable SVG graphics and thus be used again for further applications.
Ticket evaluations for customers
Are you a customer service representative and would like to enable your customer to independently view external ticket evaluations of his tickets in BCS? The view "Ticket evaluations" allows a customer to view the data for his projects. Thus, only those tickets are evaluated that come from WBS elements for which the customer has a customer assignment. Data from other projects will not be displayed. The view can be called up with the customer license
Convenient access
You can get a better overview of your tickets thanks to the integrated linking function for related tickets and duplicates and to the ability to assign tickets to predefined tags.
A powerful search and filter function in which you can combine full text search and numerous other search parameters helps you if a ticket has to be found quickly. These search settings can easily be saved as a presetting if you perform certain searches more often.
Secure
On request, the external support portal provides an especially high level of data security. After server setup, customers upload their tickets to a separate server while your employees can continue working in the internal Projektron BCS as usual.
Only that data which you want to share with your customer ends up on the external support portal, while your employees can see all data required for editing a ticket in the internal Projektron BCS.
You will also see the synchronization status between your internal Projektron BCS and your support portal on tickets. Using a traffic light, you can see whether the ticket was synchronized or whether there were problems with the synchronization.