Personnel administration and applicant management
From recording applications to personnel development - everything in Projektron BCS
Project management also means staff management. Your project success stands and falls with the staffing, competence and motivation of your project team. That's why Projektron BCS not only supports you in the planning and execution of your projects, but also brings the functions of HR software with it and organizes all of your human resources processes: from the recording of applications and the hiring process to salary, working time and vacation administration to skills management and personnel development.
---
Applicant Management with BCS: Automate your Recruiting
From the detailed recording of applications to hiring: With Projektron BCS, your HR management records incoming applications with all relevant information and associated documents in a digital applicant file and makes it easier for you to select the right candidate together as a team. Not only applications from external persons can be recorded, but also internal applications from employees.
With the status of the current application and options for further action, Projektron BCS guides you safely through the entire application process. You can see immediately, for example, whether the application has been reviewed or whether the applicant has already been invited for an interview. A tabular applicant overview makes it particularly easy to compare applicants. As you are used to with Projektron BCS, you compile relevant information individually and filter specifically according to the aspects you are looking for.
Select the right applicants as a team
If you would like to meet an applicant in person, you can organize an appointment for an interview with just a few clicks. Thanks to the new appointment category, invited employees can see at a glance in your calendars that they are scheduled for an interview. Whether HR manager, department head or employee: all those involved in the application process can deposit their personal assessment and thus support the well-founded selection of applicants.
Prioritize applications and use the reminder function in BCS to let colleagues involved know that your feedback is still pending. In BCS, all colleagues have central access to the current applicant information and provide their assessment of the applicant.
BCS automatically sends confirmations of receipt, rejections and invitation e-mails. You can use templates that have been formulated and designed once.
Once you have found the right employee, hiring is easy: Applicants can easily be moved to an internal department in Projektron BCS. The digital applicant file thus becomes a digital personnel file in no time at all. It is no longer necessary to create the master data again.
You send your contract offer to the future colleague directly in BCS, as well as information on the onboarding plan. Contracts, references and all other frequently used documents can be created as templates in BCS, making your HR work much easier.
Up-to-date, consistent employee data that authorized persons can access quickly - in Projektron BCS Standard. Because: You manage your internal organizational structure, including the personnel-relevant data of each individual employee, centrally in BCS.
Thanks to the holistic approach, the structured data records provide a multitude of synergy effects. For example, contractually agreed vacation is automatically transferred from employee data to vacation management, just as the working time model serves as the basis for time recording and resource forecasting.
In addition, internal hourly rates can be managed centrally and grouped flexibly, for example according to qualification level, pay scale or department. This saves time, especially when it comes to data maintenance.
In terms of employee self-service, your employees can view and update their own absences, recorded working times and personal data, apply for leave, appoint deputies or request payment of overtime. This ensures transparency and saves you further administrative effort.
In BCS, you can model your own processes for onboarding new employees and offboarding departing employees in just a few steps. Define according to your own internal standards and requirements which employee or which department has to complete which task when and in which order, be it in the selection process, the hiring process, the onboarding process or the offboarding process.
Use the following process modeling options in BCS for this purpose:
System-driven workflows and checklists including responsibilities, processing sequence, response times and traffic light function
BPMN designer, which you can use to model your personnel processes precisely
BCS automatically notifies every employee involved in the process as soon as their action is required. In this way, you ensure that all your HR processes run reliably, standardized and quickly - without any coordination effort.
Gabriele Schrenk
Executive Board Member of EANTC AG
Projektron BCS [lets] gears interlock: With Projektron BCS, the effects of our employees' leave and sick days on project procedures are visible at a glance – copying by hand with resulting errors and inaccuracies becomes obsolete.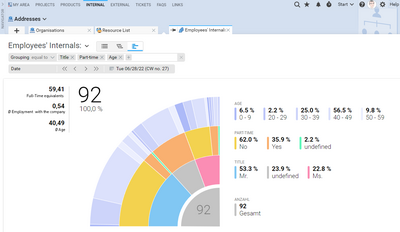 Would you like to know how many male employees between the ages of 24 and 40 are employed in your company who have chosen a part-time working model, and what proportion of the total workforce they represent in this age group? Would you like to know how high the turnover rate in a specific age group was in the last three months compared to the same period of the previous year?
No problem: Projektron BCS offers an interactive graphic with a dynamic filter function for evaluating employee internals for HR-relevant statistics and KPIs. You will discover interesting facts about your company, your personnel structure and your workforce that you didn't know before! Bet that?
Interpret your data and use it as a basis for developing sound strategies that will move your company forward in the long term. Of course, you can have your data designed and output as a report, as a diagram or as a tabular overview.
In BCS, employees easily record their working times and attendances themselves, either in Projektron BCS or via the Projektron BCS app. The recorded times land centrally in BCS and are automatically matched with the working time model stored there for the respective employee and offset against it.
Whether it's travel times, night work or weekend work: With Projektron BCS, as a personnel manager, you manage deviations from the regular pay centrally. Your employees select the appropriate exception rule directly in time recording.
Both hourly rates that differ from the basic wage and percentage and absolute surcharges and deductions can be mapped flexibly and evaluated precisely.
You can even define validity periods for these exceptions - for example, from 23:00 to 06:00 or on Sundays - with just a few clicks.
In addition, you can define whether the surcharges are recorded for payment by default, flow into the working time account, or are credited to the compensatory time off budget.
Do you bill your customers for surcharges? You can enter these external surcharges and rules directly to customers or to projects. The special agreements are billed to the customers accordingly when they are invoiced in BCS.
The DATEV interface allows you to use attendance and booking data from BCS for further processing for payroll accounting and payroll accounting.
Vacation management - approval workflow integrated
Do you need vacation? You can plan and apply for vacation and compensatory time off (FZA) in no time at all via your personal diary in Projektron BCS. Whether it's this year's vacation or the remaining vacation from the previous year: You can view your vacation entitlement and your currently available vacation budget in Projektron BCS at any time.
You can see when and for how long your colleagues will be out of the office at a glance in both the schedule and the vacation plan. Holidays, individual working time models and illness are also taken into account.
As a human resources manager, you are informed by Projektron BCS via e-mail as soon as one of your employees requests leave. With one click, you can approve or reject vacation requests. From the info emails to the employees to the deputy regulation to updating the vacation plan: Projektron BCS automatically takes care of all further steps for you. BCS automatically records approved screw-in appointments in time recording. In resource management for your projects, the vacation date is taken into account in real time.
You can't take your vacation? Conveniently request a cancellation on your vacation date - the HR manager will then be informed about the cancellation request.
So that nothing is left undone: practical deputy regulation
Whether vacation, compensatory time off, illness, maternity leave, parental leave or business trips: If an employee is not in the office, a deputy is needed. With the deputy appointments and teamwork functions in Projektron BCS, you can easily organize your deputy and appoint a deputy. During the defined period, your deputy has access to your personal overview and can attend your appointments. In addition, the deputy can process your tasks, tickets and workflows and book his efforts during your absence.
Who can do what in the company? Not only a question of immense importance for personnel planning, but - especially during the team building phase - also a concern for project managers.
In Projektron BCS resource management, employees can specify and evaluate their skills themselves. Which skills are available for employees to choose from is managed centrally to protect against duplicates.
Using search masks, project managers and HR staff can conveniently locate employees with specific qualifications, language skills or certificates, check their availability and thus deploy specialists in-house in a very targeted manner.