Customizing
Projektron BCS – highly adaptable
From the scope of functions to business logistics and corporate language to corporate design: Projektron BCS can be exactly customized to your company-specific requirements.
---

Gesine Chatfield
Head of Information Technology, IQTIG, Berlin
"For us, it was important to be able to store more information in the master data of a project than Projektron BCS provides in the standard. Projektron GmbH has therefore adapted the master data management exactly to the needs of IQTIG. Thus, we can now additionally store cost unit numbers, order texts and the date of an order as well as information on documents outside of BCS there and use it for project controlling."
Andrea Fischer
Backoffice Project Assistance, team Technology Management GmbH, Vienna, Austria
"What we particularly appreciate about BCS is the individual extensions or adaptations to our wishes and requirements. By naming drop-down menus or additional tabs ourselves, Projektron BCS allows us to map the team individually."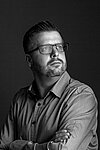 Mirko Richter
IT Services & Head of Applications, Stämpfli AG
"What ultimately convinced us was, above all, the broad functionality and flexibility of BCS as well as the possibility to customise the software to our individual requirements."
Björn Höhne
Director Consulting, USU GmbH
"Projektron BCS came out on top in a selection process that included a total of ten providers. Decisive factors for using Projektron BCS included the breadth of the functional scope, the low migration effort (incl. training) due to the "proximity" to USU's core business, and the customizing options available to us."

Peter Schöttel
Head of Software Development, BARTELT Gesellschaft m.b.H.
"I'm glad I chose BCS back then because it's constantly being developed, the support works out wonderfully, and because it's just so infinitely customizable."

Jörg Klenke
Project Manager | PMO, Systemtechnik LEBER GmbH & Co. KG
"Projektron has fully met our expectations - also with regard to the product promise that the tool can be adapted to a wide variety of challenges and requirements. This enabled us to professionally manage the growing number of employees and projects in our company at all times."

Ralf Junge
Head of PMO, Sandstein Neue Medien
"We appreciate the flexibility and maximum customizability that BCS offers. In fact, we have also had many specifications made. We always eagerly await new BCS versions, and we usually update very quickly after a new release. Here we see another fantastic advantage of BCS - it is maximally customizable and yet easily update-compatible."
Workflows suitable for your processes – entry fields for all the important data – roles and permissions adjusted to your needs: In Projektron BCS, you can show exactly how tasks are carried out in your company.
Whether individual fields or complete views, depending on the requirement you, as administrator, can switch individual BCS modules on or off on the user interface.
Project and process managers can create workflows and checklists with just a few clicks. Once they are saved as templates, workflows and checklists can also be reused.
Even permissions and roles can easily be adjusted to your company via a matrix. And if the right roles are not available by default, you can simply add new ones.
Experienced Projektron BCS consultants will gladly support you in these important tasks with the appropriate training measures and workshops. Of course, our experts can also gladly do all of the necessary adjustment for you.
Our project management software is defined by you – with just a few clicks: Each view you open in a Projektron BCS working area is loaded in a separate tab within the software.
You can arrange the views your tabs in any desired order using Drag & Drop. And: If you want to save the most important tabs in your user profile permanently, just pin them to the working area.
In addition, you can show, hide and store your settings for individual objects such as fields and table columns as required in virtually all Projektron BCS views. Do you have an individual setting that you would like to share with the team? Your administrator can simply copy individual settings for certain people or provide them globally to all people in the team.
Whether it's the contact history for important stakeholders or your team members' calendars: With personal bookmarks, you can quickly switch to frequently used records in Projektron BCS.
You want a project management software program that perfectly fits your company visually too This is easy thanks to how adjustable Projektron BCS is: As an administrator you can easily exchange the wallpaper for the web-based project management software.
We will even design the interface of Projektron BCS according to your design specifications. Of course, you can also adjust the design yourself – and in our administrator training seminars, we'll show you how.
What is it called again in the new system? Very often, certain terms establish themselves in a company over the years.
To ensure that your employees find their way around your new project management software, our experts will adjust the interface terms to your company on request. In our administrator trainings, we will show you how you can independently adjust the interface to your corporate language.
English is not your company language? No problem - Projektron BCS and Projektron BCS.start are available free of charge in a total of ten different languages, which can be selected individually by each employee:
| | |
| --- | --- |
| German | English |
| French | Spanish |
| Italian | Dutch |
| Hungarian | Polish |
| Czech | Chinese |
Please do not hesitate to contact our customer service for the different language versions.