Sustainable support for our growth
User report from Finanz Informatik Solutions Plus
As a consulting, development and integration service provider for business applications in the financial industry, software security and transparent processes are important to us. Due to our growth to date and the constantly increasing number of users, user-friendliness and intuitive operation have also become important factors. With Projektron BCS, we have found a system that meets these requirements exactly. In addition, BCS can also be flexibly adapted to our needs and enables us to make numerous process improvements.
---
Our company is a wholly owned subsidiary of Finanz Informatik, the IT service provider of the Sparkassen-Finanzgruppe. However, unlike the parent company with around 4,200 employees, our company is medium-sized and we operate independently. We employ around 490 people in our offices in Frankfurt am Main, Stuttgart, Munich and Berlin. Our customers come from the financial sector, including Landesbanken, savings banks, partners of the Sparkassen-Finanzgruppe and other companies, such as the payment service provider Concardis.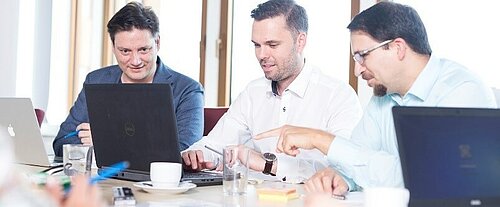 We offer our customers consulting, development and integration services for business applications. Our range of services covers all phases of the software lifecycle: from IT consulting to the individual development and integration of application systems to the handover of applications to application management. Proven expertise in the areas of business intelligence and SAP services rounds out our service portfolio.
Each of these activities is carried out by us as a project. Our customer projects range from small projects with ten person-days to long-term and multi-year projects with up to 2,000 person-days. The same applies to the budgets of our projects, with turnover ranging from a few thousand euros to millions of euros, and we carry out both effort and fixed-price projects.
The search for a suitable software for FI-SP
Our company has grown very strongly in recent years, and it was foreseeable at an early stage that this would be a sustainable development. With the increase in the number of employees, our time recording and accounting tool also reached its limits. The effort required to adapt the tool to new project and organizational structures had increased considerably, and the accounting system no longer met our requirements. It became clear that the administration would have to grow with our employees or that we would have to look for software that was better adapted to our needs. Keeping track of our diverse projects was the top priority.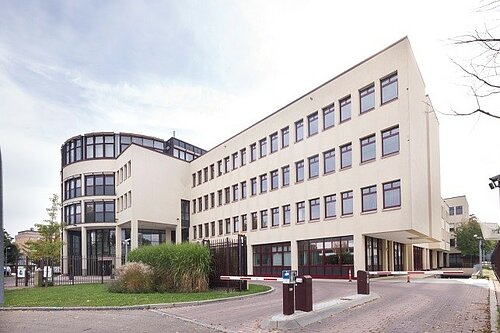 To find the right software for us, we conducted a structured market analysis. In a preliminary study for software selection, we identified all the systems under consideration. We got to know Projektron BCS at CeBIT in March 2013 and included it in our pre-selection. After a targeted survey of our requirements, two of a total of around ten different vendors remained, and we invited them to our premises for a personal presentation. In our ten-member decision-making group, Projektron was finally chosen. The decisive factors for this decision were the functional scope of the invoicing system, which can easily be adapted to our invoicing modalities, and the comprehensive project management options offered by BCS.
We were also impressed by the references Projektron offers and the flexibility of the staff, who helped us to implement the software at short notice. After an intensive selection process that lasted until the fall of 2013, we were able to perform effort recording and billing exclusively in BCS on January 1, 2014, after an implementation period of only three months. Activities in the old solution were no longer necessary, and despite the hard change, we were able to act.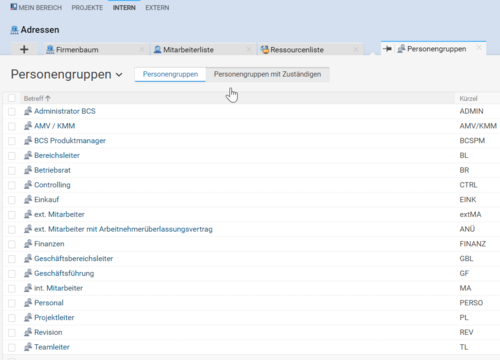 As is usual for us, we set up the introduction of the software as a project with largely internal resources. Projektron supported us primarily by helping us to help ourselves. First, we attended Projektron training courses in Berlin and also held a series of workshops at our company. We were able to complete our implementation project with an effort of around 45 person days. Thanks to Projektron's comprehensive consulting and intensive cooperation with the support team, we were able to quickly administer the software ourselves and even perform initial configurations. Today, all employees from all departments in Frankfurt, Munich, Berlin and Stuttgart, as well as external employees, work with Projektron BCS.
In addition to time recording and invoicing, we have successively introduced many other Projektron BCS functions in our company over the past few years. These include, for example, project controlling, improved invoicing and specific customer reports. New projects are created centrally by customer management in BCS, where, for example, project managers, deadlines and budgets are defined. In this way, we ensure that all projects are created in the same way. Project-specific details such as team planning, the creation of tasks and subtasks, and the allocation of resources are handled directly by the project manager in a second step.
During the course of the project, employees record all their activities in the tasks assigned to them. As part of further optimizations, the authorization concept was fundamentally revised. In doing so, it was important for us to develop a process that was as transparent, comprehensible and standardized as possible. With the help of Projektron BCS, we were able to achieve this by precisely defining user groups with the associated licenses and roles. Role definition through the targeted assignment of action and page rights was our solution.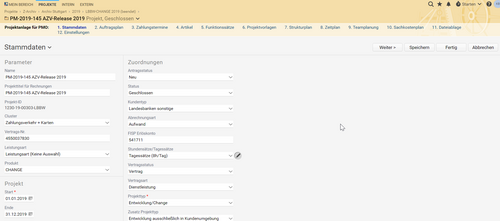 As a service provider in the banking sector, our accounting department attaches great importance to the logging, historization and traceability of bookings and, above all, of changes made. Budget values and invoices must be transparent, as we sometimes issue invoices for several hundred thousand euros. For auditing purposes, the process is documented in Projektron BCS, which acts as a sub-ledger. The correctness of the bookings is an essential prerequisite for our invoice release process. Customer management prepares the release at a central location. The project managers check the individual items and the overall invoice. With the help of the evaluation, they can see whether possible bookings have not been included in the invoice and can correct the invoice. During operation, the project managers manually compare their budget with the stored flat rates, carry out effort checks and check the postings to their project.
Besides functionality, one of our main concerns is the security of the software. We have comparable security requirements to those of the banks. Our ISO 27001 information security certification is a prerequisite for being allowed to offer outsourcing in the financial sector. To protect our sensitive project data from hacker attacks, we operate Projektron BCS and all other systems according to the Program Deployment Procedure (PEV). This means that we check every update for security vulnerabilities in a test environment before going live. However, updates are also tested for functionality as part of a BCS stakeholder committee. The various application areas check the new functions. Only when all stakeholders have approved the functions is the update set to "productive".
Conclusion and outlook
One of the biggest advantages of Projektron-BCS is that it keeps pace with our growth. We have now nearly doubled our user base with approximately 400 internal and 350 external users, despite the ongoing Covid-19 pandemic.
We continue to find the system very open to our individual requirements, which we have always taken advantage of over the years of working together. Among other things, customizing allows us a variety of evaluations and ways to customize reports. Our latest project is also based on this. As part of the central project responsibility, customer management, we have introduced several new customer reports. The reports are used for more intensive monitoring and control of ongoing projects at our site. Previously, various data sources were required to create the reports, which were then evaluated in a consolidated manner.
With the changeover to Projektron BCS, the creation of reports is not only faster, but also much more target-oriented.
Further innovations have taken place within the invoicing process. For one of our largest customers, we work on behalf of and through the contractual relationships of our parent company, Finanz Informatik. For this reason, there is a double invoicing in FI-SP. On the one hand, we create the invoice to the customer on behalf of FI, and on the other hand, we create the same invoice to our mother. Whereas previously the second invoice was created laboriously via an Access database, both invoices can now be created in parallel directly from BCS. This allowed us to completely replace the use of the existing Access database. Another important advance is the direct export function of invoices including proof of services to our customers. Thanks to BCS, all invoices can now be exported and sent with the associated proofs at site level. Previously, these had to be extracted individually and on a project-by-project basis.
Just this summer, we took the opportunity to get to know the BPMN implementation in BCS during a workshop. The customer management was introduced to the functions and possibilities of the workflow engine. After an initial evaluation, we can imagine several ways of using it in the future. For example, we would like to control customer reporting via a workflow so that reports subject to auditing can be tracked automatically. We will implement this with the upcoming release upgrade.