Release information
Projektron BCS 20.3
In the new version 20.3 of the project management software Projektron BCS, you can issue QR invoices in just a few clicks and replace the previous payment slips. In addition, you can quickly see who is currently processing user stories or tickets and new key figures enrich your personnel management evaluations.
---
Make payments and process invoices conveniently and digitally
In mid-2020, Switzerland introduced bills with QR code. The payment section with Swiss QR code and receipt, as part of the QR invoice, replaces all variants of the previous payment slips with the payment section of the QR invoice. The new version 20.3 of the Projektron BCS project management software supports invoices with QR code: In invoice templates, it is possible to specify that the invoices created from them should contain a payment part with QR code. This can also be specified individually on invoices.
Payment slips can still be created and will remain usable until the end of the transition phase (probably end of 2021).
This function is optionally included in BCS.start.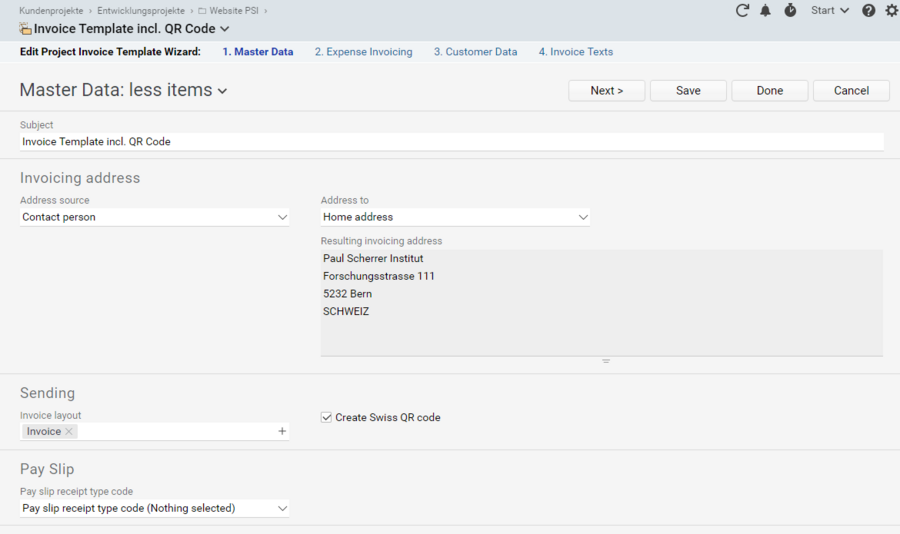 See at a glance who is already working on a user story or ticket
Several people are usually involved in the processing of tasks. Especially when there is a lot of communication, such as on tickets and user stories, it can happen that participants edit them at the same time or answer questions in comments. To avoid duplicate work or misunderstandings, the new Projektron BCS 20.3 displays in edit mode if another person is editing the same object or has already saved changes. This function can be switched on via toggle.
This function is also included in BCS.start.
Conveniently evaluate personnel key figures
As of the new Projektron BCS 20.3 version, the Employee internals view offers the new Company list subview, and the Company tree and People search subviews are also integrated there. The view provides an evaluation of common key figures:
Number of employees
Full-time equivalents
Weekly hours
Part-time
Entry date
Leaving date
Reason for termination
Status
Length of service
Age
Department Cost center
Nationality
can be clearly tracked globally, at department or person level. With new filters, HR managers can quickly get answers to questions such as:
How many men work part-time?
Who has been with the company for more than 10 years?
Who is retiring next year?
This function is also included in BCS.start.