Release archive
Projektron BCS 7.2
The latest version of the project management software Projektron BCS keeps you cool even during the most heated planning stages – for example with its space-saving planning view or automatic price selection.
---
Up to date
In Projektron BCS, you can maintain purchasing prices and sale prices directly under the item. If prices change on certain key dates, you can simply save the new amounts along with the corresponding change date.

If you create a quotation with the help of items, Projektron BCS automatically uses the prices that apply at the time of the quotation validity period. The same applies when your items are already integrated into the templates and you copy them into your project.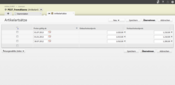 Extensive
Do you also want to offer your customers extensions or alternatives? With Projektron BCS 7.2, you can add optional items to your quotation. These are not included in the quotation total and are formatted in italics in the PDF document. If your customer requests optional items, you can easily apply them in your planning.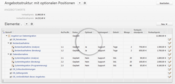 Clearly structured
To what extent are our departmentsinvolved in projects? Who has free capacity? Clearly structured answers to these questions are provided to you by the new matrix Project Effort/Department containing important information, such as on the project status, duration or open remaining effort.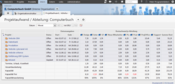 Practical
In accounting or controlling: Lengthy evaluations are not uncommon wherever numbers are involved. Headers in tables can be fixed in Projektron BCS 7.2. This allows you to keep track of column headings – even when you scroll all the way down.