Release archive
Projektron BCS 6.24
Manage your projects and resources even more comfortably with version 6.24 of our project management software, thanks to functional improvements such as flexible process work flows or the drag & drop calendar.
---
Process steps open automatically
With the revised Projektron BCS work flows, you will now be able to display your processes in a more flexible and more detailed way. You define the processing duration and processing end of a work flow step, and Projektron BCS will do the rest for you: On time for the desired target time, the system will start the work flow and send a message to the responsible employee. Thanks to clearly visible traffic lights, the processor will see at any time how much time is left until the completion of the work flow step.
Another novelty: It is even possible to run several work flow steps in parallel if this is necessary for your process.
Drag & Drop for appointments and reminders
With Projektron BCS 6.24, you manage your appointments in a more comfortable and time-saving manner. Determining the starting time of a new appointment with a mouse click, changing the duration by simple drag and drop or shifting the appointment to a free time frame – all this is now possible directly in the calendar and without additional entries. And with the new period "flexible week", planning and shifting of appointments over weeks becomes even simpler.
By the way, the drag and drop principle also works for reminders which is just another popular feature of Projektron BCS for your personal work organization.
Viewable with new colours – flexible thanks to a change of perspective
In the new work plan you get an even better overview of the tasks your team is currently working on and of upcoming appointments. Task times highlighted in colours ensure transparency: Thus, you will be able to make service decisions quicker and more precisely. Thanks to new grouping possibilities – for example according to tasks or projects – you will always be able to flexibly change your perspective.
Allocate processing times depending on the resources
As a project manager, you can now determine the percentage of the daily working time an employee shall work on a project task. This allows for a particularly good presentation of project-related tasks such as project coordination.
In addition to this, a new tool allows you to adjust your planning to the free capacities of your team, which ensures that no member of the team is overloaded.
Always an eye on critical tickets
Thanks to traffic lights, you will immediately recognise time-critical tickets and can thus support their processing with targeted measures. Projektron BCS does not only give a clear overview of which tickets remain unprocessed too long, but will automatically send an e-mail to the respectively responsible person if requested.
Automatic generation of articles for updates, server fees etc.
If you regularly offer the same services to your customers, such as software updates or server hosting, you will benefit from repeatable articles in Projektron BCS. In Projektron BCS 6.24, you will be able to create such articles without a restriction of the duration. Once created, Projektron BCS automaticallygenerates the articles once a year for the coming year. This makes sure that your system is not overstressed - and you are free to take care of the best service for your customers.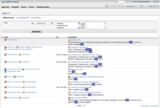 Quicker results with new weighting
In Projektron BCS 6.24, full text search is even more comfortable and user-friendly. Automatically on top of the list: Important hits that contain your search term directly in the subject or in the description. Particularly relevant objects, such as projects or tasks, are allocated a higher weighting by our web-based project management software. Whether persons, invoices or contracts: The preferred objects can of course be adjusted to your individual requirements.