Release information
Projektron BCS 20.4
With the new version 20.4 of the Projektron BCS project management software, the ZUGFeRD invoice format is available - for automated, standardised and streamlined payment transactions. The extended scaling options in the time and project plan offer additional filter schemes for long-running projects. In addition, an extension of the free guest licences makes it possible for every person to communicate their ideas via BCS in the future.
---
Processing e-invoices standardised and made simple - with ZUGFeRD to the perfect workflow
ZUGFeRD stands for "Zentraler User Guide des Forums elektronische Rechnung Deutschland" (Central User Guide of the Electronic Invoice Forum Germany) and is an electronic invoice format that conforms to the E-Invoice Act. In the hybrid format, the visual representation in the PDF/A-3 standard is combined with an XML file. The advantages of ZUGFeRD are clear: As a rule, invoices are received by the accounting department in paper form, as a scanned letter or by mail as a PDF document. The employees then transfer the data to the invoicing software used. This process is time-consuming and error-prone. Therefore, in addition to the PDF document, ZUGFeRD also provides data in XML format, which the invoice software can directly record and process. A visual difference to a standard PDF file is not recognisable.
With BCS, you can now create invoices in ZUGFeRD format as an alternative to the electronic invoice format "XRechnung" (XInvoice).
This function is also included in BCS.start.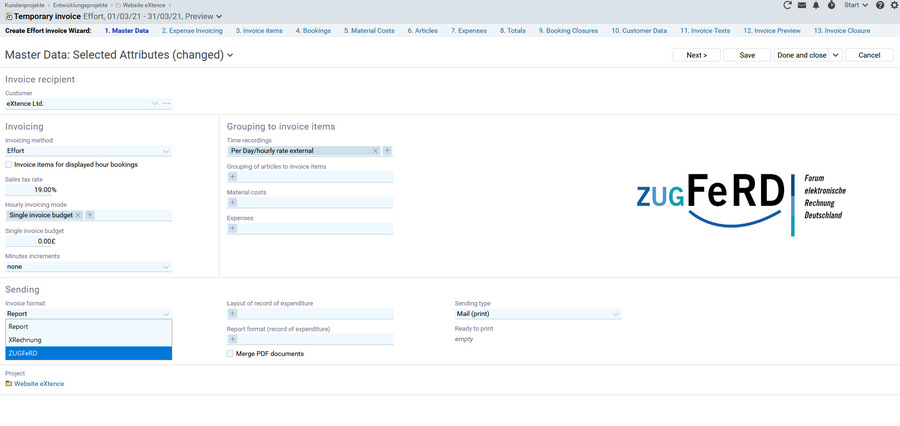 Extended scaling options for an optimal overview of long-running projects
So-called long-running projects are projects that extend over a longer period of time - often several years. Accordingly, differentiated scalability is helpful for these projects. In addition to days, weeks and months, the time and project plan can now also be displayed on a yearly basis in BCS. In addition, the quarters are also displayed to guarantee a quick overview. The new display can be selected on the project in the time and project planning.
This function is also included in BCS.start.
Extended rights allow guest licence users to create tickets and project ideas in BCS
Good ideas should be pursued. To ensure that these do not fizzle out before they are realised, the rights of the guest licence have been extended with the new version 20.4. From now on, guest licence users can also create tickets and project ideas in BCS.
The following attributes are available to the idea generator for the description:
Subject
Description
Idea type
Status
Reference
Idea generator
File storage
This function is also included in BCS.start.