Release information
Projektron BCS 21.1
With version 21.1 of the project management software Projektron BCS, you can directly adjust remaining efforts in the shift plan thanks to a new editing option - for even more efficient project handling. The new interface between the Outlook client with Office 365 and BCS makes it possible to link an appointment with a task or a ticket in BCS already in Outlook. In addition, the customisable poster print for the Gantt chart offers completely new design options for illustration.
---
As a project manager, it is now even easier and quicker to adjust residual efforts
Many project managers know from their own experience - residual efforts do not always reflect their original planning. In the past, if a project manager wanted to make adjustments to the shift plan, for example, he or she had to change the view in BCS. With the new version 21.1, a new column has been added to the shift plan in which you can directly store the remaining effort of your employees and explanations.
This function is not included in BCS.start.
New interface enables use of BCS and Outlook without changing tools
The latest version of BCS now also allows you to assign tasks, projects or tickets to an appointment directly in Projektron BCS via calendar synchronization with Exchange-Online (O365). This assignment is provided via RSS feeds in Outlook and linked to appointments in Outlook via insert or drag & drop. In this way, it is possible to plan appointments in Outlook and, for example, link the tickets directly in Outlook with appointments in BCS as part of an effort planning with ticket-scheduled tasks, in the same way as calendar synchronization with Exchange OnPremise.
This function is also included in BCS.start.
Print out, stick on and keep everything in view
With our new version 21.1, you can easily print out your time-, project- and schedule-plan directly from your browser and make it available for all project members to see, for example in the conference room. Poster printing is possible via the download menu and can be customised according to your own requirements. In addition to the print format of A3 or A4, you can select the page orientation, add page numbers and scale down entire pages if required. Currently, poster printing is still an experimental function, but it easily supports plans of up to 12 pages.
This function is also included in BCS.start.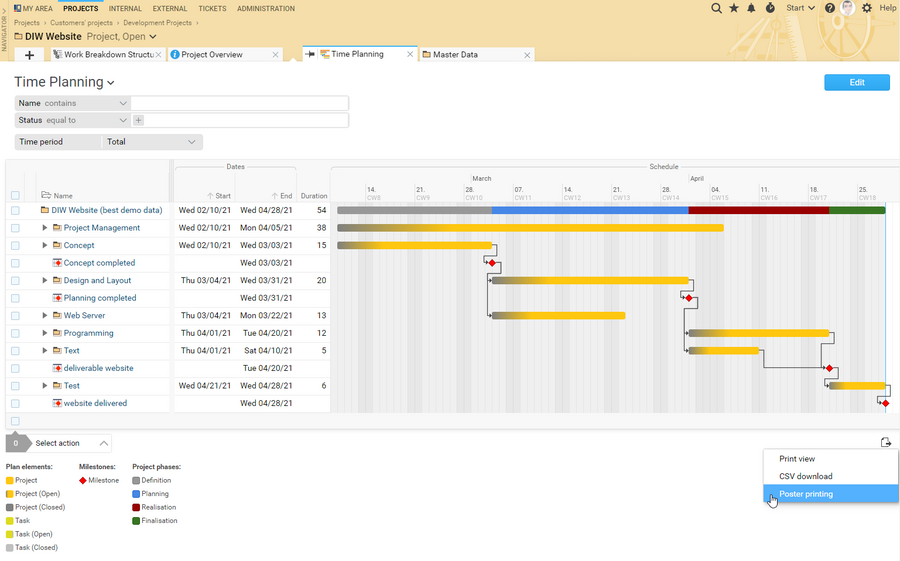 More functions of the 21.1
Ticket queries improved
Icons for subviews
Fixed table headers in board elements
New CK editor
More contrasty profile under settings
Resource utilisation improved
Utilisation mountains for several years
OAuth implementation for PingFederate improved
Intra-group billing - new billing rate
Deadline calculation for contracts
New links in stakeholder management
XInvoice and ZUGFeRD expanded
Master data in BCS better protected
and more!
Our customers will find a detailed description of the latest functional innovations as usual in BCS on the help homepage.