Release archive
Projektron BCS 7.4
A short glance at the automatically updated monthly plan, a milestone shifted quickly in the interactive Gantt chart and the business contacts synchronized with your smart phone. The new Projektron BCS 7.4 stands for time-saving project management, and as central data supplier it causes synergy effects across systems.
---
Simply ergonomic
In Projektron BCS 7.4, you edit your project's scheduledirectly in the Gantt chart: Whether it be milestones, task packages or tasks – whether open or closed: the structural elements of your project can be moved along the time axis at the click of a mouse. You can adapt the duration – such as of a project task – conveniently by dragging. If you want to insert new predecessor/successor relationships or edit existing ones, you can do this easily with a right-click.

Thanks to the fixable axis, you always have your eye on the time in the Gantt chart – even if you scroll right to the bottom in large projects.

As an additional planning component, your time plan including the Gantt chart can be shown and edited easily in the effort and structure plan. This allows you to shorten your navigation routes and make your project planning meet your requirements even better.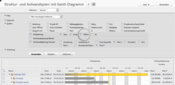 Accurate planning
With Projektron BCS 7.4, you can plan the staff requirements for projects with long running times even more accurately: Month by month, you can define directly in your project's effort plan how time-intensive the use of your team members should be in the individual project tasks and work packages.
If the estimates of remaining efforts of your team deviate from the planned values, Projektron BCS uses the current values in your project as usual. In doing so, Projektron BCS orientates itself on your specifications: For example, if 50 per cent of the available time for the month of October is planned, Projektron BCS adds on 50 per cent of the remaining effort of this month.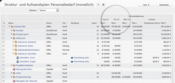 Successful use
How many hours are my employees or entire departments working on externally chargeable tasks? In the improved employee/effort view, you can now also see average values alongside the total hours.
Monthly, weekly, for an entire quarter or individually defined: you can chose the period the average relates to as required.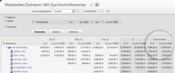 Current acquisitions
In Projektron BCS, your acquisitions show you the income you can anticipate in the future. Maintaining these is even more convenient in version 7.4. With just a few clicks, you can allocate your quotes to the associated acquisition.
The project management software adds important values, such as the quote probability, quote values or the predicted conclusion, to your acquisition. If values or the status of your quotes change, Projektron BCS adjusts your acquisitions accordingly. In this way, Projektron BCS 7.4 keeps your acquisitionup to date and saves you manual maintenance work.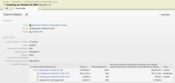 Benefiting across programs
Up-to-date, consistent data which authorized persons can access quickly – this has always been standard thanks to central data storage in Projektron BCS. As a directory service (LDAP server), Projektron BCS 7.4 can respond to data queries made by other programs via the LDAP standard application protocol.
Whether it be the contact details of business partners for digital address books and e-mail programs, login data for the single sign-on or data on person groups for the assignment of permissions in the file system – 7.4 gives you many opportunities to benefit from your Projektron BCS data across programs.