Release archive
Projektron BCS 7.10
With traffic light controls for customer communication, dynamic AJAX overviews and a JIRA interface for project managers, the new Projektron BCS ensures profitable links and opens new perspectives.
---
JIRA data in the project
Whether in resource management, project controlling or invoicing: Starting with Projektron BCS 7.10, data from JIRA can be integrated into your projects easily and flexibly.
This enables you to already recognize potential shortages in the Projektron BCS resource preview while your developers are working on JIRA issues. Projektron BCS also draws your attention to undesirable developments in duetime, for example, through forecast time and budget overruns. Furthermore, you are able to conveniently invoice projects, including efforts, from the JIRA work logs in Projektron BCS.
This is possible thanks to the Projektron BCS Connector for JIRA as well as a web service which transfers JIRA issues and JIRA work logs to Projektron BCS in real time.
Therefore, for the first time, Projektron BCS offers an interface based on a licensable standard web service – a feature that will be expanded in future Projektron BCS versions.
Keeping an eye on communication
In Projektron BCS, you can see at a glance whether your communication is appropriate (indicated by a green traffic light) or whether you should call a customer. As of version 7.10, the proven traffic light controls from project management are also available for your contact management (CRM).

Projektron BCS lists your contacts with the corresponding traffic light setting in a clearly structured overview. When a traffic light switches from green to yellow, it is time to contact your business partner. If a traffic light is red, this indicates that the scheduled timeframe for contacting the customer has already been exceeded.

It can be controlled centrally as well as individually when the traffic lights switch. Example: If new trade fair contacts should be contacted within three weeks for a follow-up, a corresponding traffic light control setting can be stored centrally for the associated contact category. Or you would like to continue the discussion of a certain topic with your business partner in two months. If you store the desired point in time in his contact history, the traffic light will remind you in due time.
Efficiently organized
Whether by qualification level, tariff or department: You can flexibly group and centrally manage your internal hourlyrates in Projektron BCS 7.10. This allows you, for example, to store the relevant internal hourly rate for your developers or consultants once and assign it to multiple employees.

This saves time – especially with regard to maintenance. Because if, for example, the hourly rate for your developers changes, you as the personnel manager, can adjust it only in one place, and Projektron BCS will take care of the rest for you, if needed also time-related on a date defined by you.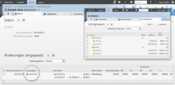 For short communication paths
Do you already use Projektron BCS to manage your contracts? Then the contract management in version 7.10 offers you even more convenience.

You can set a suitable notification interval for each contract, such as two weeks prior to contract end. If a contract expires or can be canceled, Projektron BCS informs the relevant specialist responsible by e-mail and requests a response. With the click of a button, this specialist can switch to the new Projektron BCS feedback function, where he can indicate how to proceed with the contract. If he does not enter any feedback, Projektron BCS will remind him again if desired. In this way, Projektron BCS supports your consistent documentation and shortens internal paths of communication.

Furthermore, starting with version 7.10, you are not only able to enter the beginning but also the end of the contract durationto the minute – a special advantage, in particular with regard to insurance contracts.
Whether by cost types, cost units or cost centers: Regardless of the criterion you want to use to evaluate costs, you can do so along the entire project structure in Projektron BCS 7.10.

In addition, version 7.10 offers an added benefit for your personnel cost evaluation: Whether you are managing travel time, night work or weekend work: You can include surcharges for time recording or special hourly rates in your project evaluations. You can define the surcharges that are relevant for your project: If a surcharge is not to be included in the calculation, you can set this with just one click directly in the surcharge rule.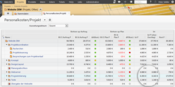 AJAX for project managers
Starting with version 7.10, Projektron BCS responds even faster to your input. This is possible thanks to the asynchronous data transfer via AJAX. If, in the future, you make a change to an item on a Projektron BCS overview page, AJAX will make sure that only the area containingthe change will be reloaded and not the complete page. Not only does this make Projektron BCS faster, it also shortens your navigation paths.

More white space and a clearer structure is also provided through grid-based forms as well as configurable path specifications, which allow you, for example, to display the often shorter project group ID rather than the project group name.