Stämpfli AG
To ensure that Stämpfli Kommunikation can concentrate fully on the customer in its consulting projects, Projektron BCS has been supporting the processes in the background since 2016.
---
Projektron BCS in use
Stämpfli AG uses Projektron BCS for the following tasks:
Offer preparation
Project planning
Invoicing
Resource management
Time recording
Project execution
Project controlling
Reporting
Holiday management
Profile
As a long-standing family business, Stämpfli combines communication, tradition and modernity. Six generations have already successfully managed the company and developed it further in the interests of its employees and shareholders. Stämpfli Kommunikation, with over 300 specialists from all areas of communication, stands for excellent advice in brand design, communication and process design: for holistic, focused and implementation-strong action, for leading solutions in networked communication, for the production and communication of printed and interactive media - and for the highest quality of service. Stämpfli Kommunikation provides the following services in different service areas.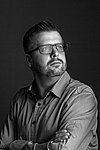 Martin Pfäffli
IT services, head of applications
Thanks to Projektron BCS, we have control over our resources and the work we have to do. We are very satisfied with the performance of BCS and see it as an indispensable tool for the implementation of our projects.