:em engineering methods AG
The IT experts at :em are delighted by the functional scope of the project management software and are happy to have decided in favour of Projektron BCS since 2008.
---
Projektron BCS in use
:em engineering methods AG uses Projektron BCS for the following tasks:
Project controlling
Project planning
Invoicing
Resource management
Expense management
Customer support system
Holiday management
Time recording
Profile
:em engineering methods AG, or :em AG, develops and provides innovative methods for product development. As an integrator of IT systems in the product creation process, they offer an end-to-end spectrum of services for manufacturers, suppliers and engineering service providers. :em AG relies on its sophisticated skills in the areas of design, development and implementation of integrated, performance-optimised solutions for the entire product life cycle.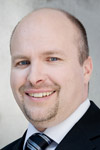 Dr. Sven Kleiner
Executive Board
We compared different solutions before deciding on a project management programme. Projektron BCS proved to the one which best fulfilled our requirements - and offered a very attractive price-performance ratio.