CATUM Engineering
CATUM Engineering is an engineering office for the development of wind turbines. These major, complex projects last several years and require a software system that addresses CATUM's specific needs for project management and project controlling: Projektron BCS.
---
Projektron BCS in use
CATUM Engineering uses Projektron BCS for the following tasks:
Project planning
Project management
Project controlling
Resource management
Time recording
Contract management
Holiday management
Profile
At our Lübeck headquarters, we plan and develop wind turbines for our international customers. After all, renewable energy sources will play an increasingly important role in future. Our customers are wind turbine manufacturers and operators. We see ourselves as a development service provider who offer solutions tailored to the customers' needs, over the entire value chain and during the entire life cycle of wind turbines. Our work isn't done until the order is complete to the customer's satisfaction. In addition to our high-level technical experience and expertise, we possess systematic, methodological skills for establishing efficient, sustainable development processes.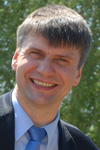 Georg Rudolf
Managing Director
Projektron supports us in the seamless management of our projects.